---
Nearly 3,000 unwanted pets enter CMHS each year. Many of these animals stay at the shelter until adoption, and we are committed to making sure each dog and cat stays warm, fed, and healthy during their stay. By sponsoring a dog kennel or cat condo with the Shelter Me program, you help cover these daily expenses:
Medication & Vaccinations
Food & Nutrition
Toys & Enrichment
Laundry Expenses
Cleaning Supplies
Spay/Neuter
Become a Shelter Me Sponsor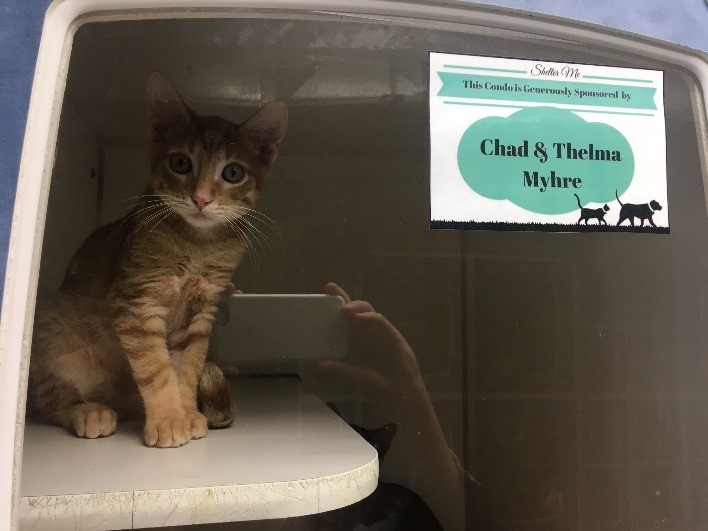 Your Sponsorship Includes:
---
A sponsorship sign for a dog kennel or cat condo. Sign can include an image or logo.
Shelter Me sponsors are listed on our website - look below!
Your annual Shelter Me sponsorship can begin at any time of the year and is 100% tax deductible. Sponsoring a dog kennel or cat condo is a neat way to promote your business or a lovely way to pay tribute to a friend or family member.
Emily Albertson
Bruce & Lynda Baker
Bob & Tammy Bynum
Joan Coates
Janet Sue Crosby
John Dodam
Belinda Fender
Kee & Diana Groshong
Friends & Family in memory of Caden Hastie
Jennifer Hemphill
Karen Johnson in honor of Cassidy Johnson
Matthew Knowlton & Kathy Doisy
Peter & Chris Koukola
Carl Morris & Larry Katner
Carl Morris & Larry Katner in memory of Bette Weiss
Becky McHugh
Joe & Carol Moseley
Loren and Anita Nikolai
Dennis O'Brien & Sarah Myers
In memory of Erik Patchell
Jayne Pearman
Paul Rhoads
The Red Riders at Brenda Benner Stables
Judy & Steve Richey
Steve & Pat Smith
Jeanne Schwartze
Austin and Ellen Snipes in memory of Rocco
Gordon Springer & Susan Hutt
Barbara P. Wallach
Karla Watson
The Winkelmeyer's in memory of Heidi Drechsel
The Winkelmeyer's in memory of Caroline Slomianowski
In honor of Kristen & Alexus Wong
Advance Orthodontics
Jerry & Kay Benedict in memory of Johnny Keller
L'Mont & Kathy Betz
Doug Bowles & Yvette Nieto
David & Denise Brown
In Memory of Morgan Buckler
Wendell Coonce
Dennis Cravens
Creekside Pet Center
Blake & Carol Danuser
Angela Drake
Lisa Dresner
Belinda Fender
Robert & Nancy Foss
In loving memory of Justin Foster
Joseph Ganz and Cynthia Morrison in honor of Quinn
John Hope in honor of Laurie Ketts
James Jennings
Matthew Knowlton & Kathy Doisy
Charlotte Larrick
The MacLellan/Stubbs Kiddos
Becky Morton
Shelly Nelson
Phyllis Nichols in memory of Greg Nichols
Durk & Suzy Price
Jerome & Karen Rader
Randa Rawlins
The Red Riders at Brenda Benner Stables
Jon & Carol Rhodes
Mary Lee Seibert
Steve & Sherry Smith of New Bloomfield
Jeff Sossamon & Eddie Dziuk
Bobb Swanson
The  Tumuluru Family
Fred & Kathi vom Saal
Richard Wallace
Wendy Walters
Mark & Tina Workman